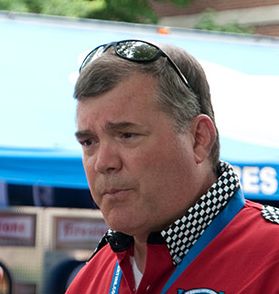 Jeff Stumb
Jeff Stumb grew up in Birmingham, Alabama, in a motorcycle and car family. He started riding when he was 8, tagging along with his dad across the Southeast almost every weekend to motorcycle events. He was into "old" cars before he had his driver's license in the mid '70s. Of course, old cars then were worn out '69 Camaros and '55 Chevys, two of his first cars. He has had almost 100 since then, including more than a dozen, which range from a 1915 Winton to a 1964 Chevrolet. His favorite is the only 1916 Hudson Cabriolet known to exist.
After graduating for Auburn University and taking his first job in the newspaper business, Stumb saw the Great Race for the first time in 1987 in Orlando. In 1994, he participated for the first time as a driver and turned in the lowest daily score of the race that year – 4 seconds. As his family grew – he and his wife, Karen, have five children – and the cars in his modest collection got older, the one thing that seemed to remain constant was his annual participation in the Great Race. He competed through the years with friends, his father and his wife.
In 2011, after leaving the newspaper business after almost 25 years, Stumb became the director of the Great Race after it was purchased by Coker Tire. In the 10 years since, the event has grown to unprecedented heights, from a record number rookies to the overall number of teams. His favorite parts of the job are the people, the cars and places he gets to visit.